If you're looking for a great way to entertain your kids AND a way to bring a little education into it, you can't go wrong with gardening. You can teach science, math and language skills in the garden. Take a look at these gardening ideas with kids in mind, and see how many lessons can be taught.
Because it will hopefully be a permaculture garden, you can also teach your kidlets about conservation, water usage, natural ecosystems, and much more. Plus, it'll just be heaps of fun. Hopefully.  : )
Fairy garden
To me, all gardens are magical. But you can make it even more magical for kids by inviting the fairies around for a visit. Go on a gathering walk with the kids and collect some lovely natural bits and bobs for making fairy paraphernalia.
Now you can build any sort of fairy stuff you want. Houses can be made from logs. Or you can make a little outdoor tea party, with table, chairs and acorn teacups. Just have fun with it.
For plants in your fairy garden, you'll want to have some lovely feathery plants with dainty flowers, as well as some interesting ones that you can make more fairy things. (plants with interesting seeds and stuff) Edible: Chervil
You can also just put your fairy fixings right into any garden you already have built. Just tuck it into a cozy corner.
If you have boys to contend with, if they're not into fairies they can be in charge of making trolls.
Fort garden
This is where things can get really fun. This is a garden that the kids can get right into. Literally. Start with a bean teepee. Put a teepee together from 6 or 8 poles or bamboo pieces. Make it as tall as you can, and tie it snug at the top. At the base of each of the sticks, plant two or three runner bean seeds. The beans will cover the teepee and make a nice shady hide-away for the kids.
Around the teepee, you can plant some sunflower seeds to make a forest for the teepee to live in. For edibles, plant things that kids can munch on like peas, baby carrots, chervil, etc.
Container garden ideas
If you don't have any space to plant a garden, you can still plant a cool container garden with the kids. You can even make a bean teepee. Just arrange the pots in a circle, and put one pole of the teepee into each pot.
Challenge the kids to find some cool things to repurpose as planting pots. Do you have wood scraps they could build planters with?
You can also use these colorful and convenient grow bags from Bootstrap Farmer. They will brighten up any corner of the garden. They would look great as the base for the bean teepee!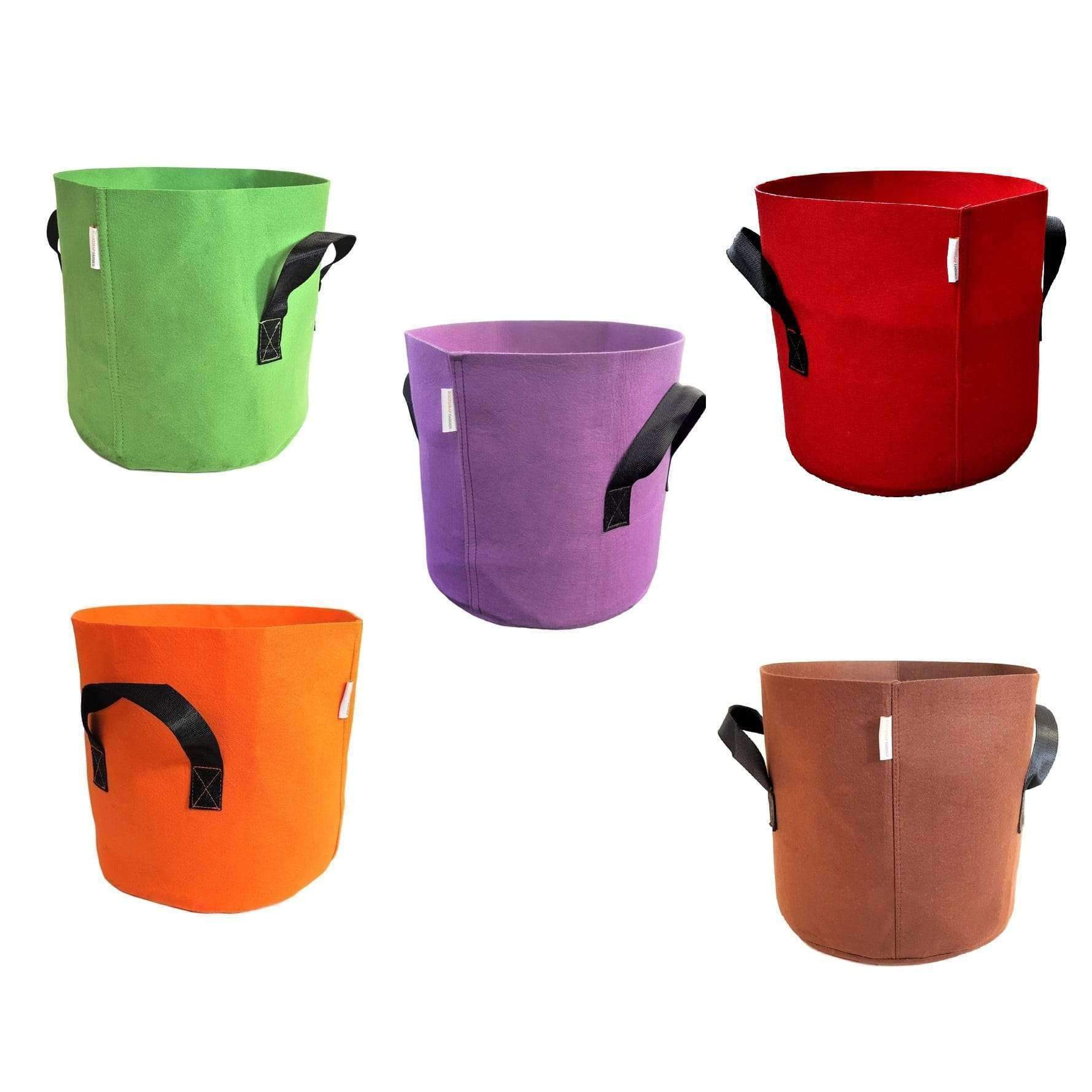 Alphabet garden
Challenge the kids to come up with a plant for each letter of the alphabet. They'll have to do some research, and learn the Latin names to find some of them. You might not be able to grow them all in your climate, but hopefully you can plant quite a few.
For the ones that you can't plant, have the kids draw pictures of them. That will add in an art aspect to the lesson plan!
Sensory garden
There are many scents and tastes and textures in the plant world. Growing a Sensory Garden with your kids is a great way to introduce them to the beautiful variety.
Pick some strong scented flowers such as sweet peas and sweet alyssum. These are annual flowers, but you can also plant some perennials such as lilacs and roses.
Herbs are another great bunch of scented plants. When you rub the leaves between your fingers, you get a lovely hit of fragrance. For a kids garden, lemon balm would be a great choice. That lemon drop smell makes my mouth water every time.
Any edible plants that your kids like are great to plant in a sensory garden. Carrots and peas are a great choice.
For texture, you can plant a mix of things like flowing grasses and furry-leaved plants such as mullein and lamb's ears. Anything that offers a different sort of plant experience.
And plant some bright colored flowers, for the visual effect. Tall sunflowers, and dahlias and zinnias are stunning.
Animal garden
See how many plants your kids can find that are named after animals. Here is a list to get you started:
Monkey flower
Tiger lily
Snapdragon
Catnip
Oxeye Daisy
Ostrich Fern
Bee balm
Things to look at and talk about
Gardens and nature can provide the perfect classroom. There is so much to see and learn about, that you might just be able to spend the whole schoolday outside. How lovely would THAT be?
Here are a few simple ideas to get you started:
Insects – how many insects can the kids find? What are their names, and what do they do?
Soil – what kind of soil do you have?
Edibles – different families; taste tests
Measure plants to see how fast they grow.
Do drawings of the plants. Simple drawings for younger children; and more intricate drawings for the older ones, with the names of the different plant parts.
Get the kids to write about the garden: information about their favorite plants; how they planted the garden; or a story involving garden.
And I'm sure you can think of more ways to get lessons from the garden. The most important thing is to make the lesson enjoyable so that the kids will keep their enthusiasm for the garden they have planted.
And to really get them to have pride of ownership, get them a set of their own tools for working in the garden. Kid-sized tools are great – kids will get frustrated trying to you the big ones.
Let the kids lead the way
There are plenty of ideas for children's gardens. The important thing is to let the kids decide what kind of garden THEY want to grow. You can make the suggestions, and then let the kids run with it. They will learn much more, and stay interested longer if they feel like it is theirs.
Even if you don't plan a themed garden, just getting the kids involved in growing their own little patch of vegetables will give them a great sense of accomplishment, and teach them some great lessons.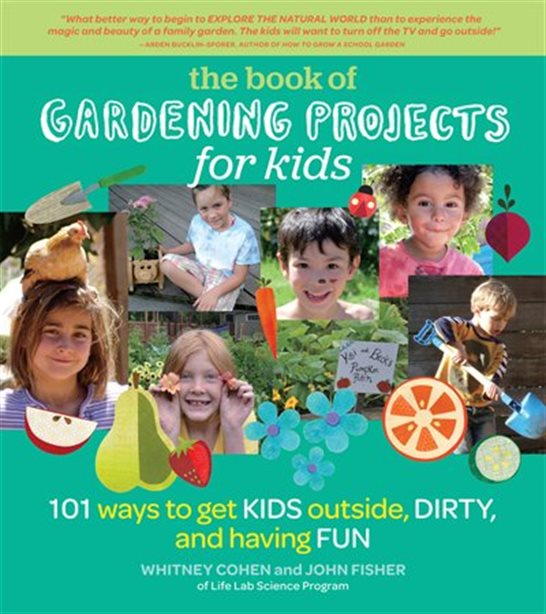 This wonderful book by Whitney Cohen and John Fischer, The Book of Gardening Projects for Kids, is jam-packed with all kinds of great ideas for bringing kids and gardens together. Take a look!
I'd love to hear your ideas and experiences in the comments below. If you decide to grow a children's garden, please let me know how it went.
Health, Hope & Happiness
Tracy
This article contains affiliate links. This means that if you click on a link and make a purchase, I will receive a small commission, at no extra cost to you. See the full Affiliate Disclosure here.