"There is always room for a garden."
That's my motto; and I hope to show you just how true it is. I'd like to share some simple small garden design ideas with you that will enable anyone to grow at least some of your own food, even in the smallest of spaces.
Some of these ideas are as inexpensive as gardening can get, and some have a bit of a price tag; but they all enable you to grow some fresh, nutrient rich food for you and your family. And you'll be surprised at how much food you can grow in a small space.
Small garden ideas
Herb spirals
I wrote about herb spirals in a previous post. To me, herb spirals are one of the most efficient ways to incorporate a garden into a small space. You can really pack a lot of veggies into this small garden.
All the planting principles apply in a small garden – succession planting, interplanting, overwintering, vertical growing, etc. So take advantage of time as well as space when planning your herb spiral planting layout.
You can plant your herb spiral with anything that you love to eat. It doesn't have to be herbs. Let's say you really love summer salads. A herb spiral can grow all of your salad needs all summer.
You can start planting in early spring. Most greens are cool weather plants, and won't mind an early start. Lettuce, mustard greens, beet greens, spinach, and radishes can all be planted quite early. Later in the season, when the heat hits, you can plant greens on the north side of the garden, where they'll get some cooler shade.
Add cherry tomato plants, and anything else you enjoy in a salad. Here are some ideas:
parsley
basil
sweet peppers
cucumber
arugula
Or maybe you're a stir-fry addict like I am. If that's the case, you can load up your spiral with greens such as mustard and kale, rapini broccoli, a zucchini plant, peppers, tomatoes, and some tasty herbs such as cilantro and chives. Yum.
You get the idea. You just plant your favorite vegetables in the herb spiral, and harvest all summer. And if you have herbs growing in it, you can harvest and dry them, and have a taste of the garden in winter.
Check out my article on herb spirals to learn how to take advantage of the micro climates offered by this innovative garden style.
Border or planter gardens
Sometimes there just isn't any space, even for a small herb spiral. If you live in an apartment, and don't have access to any yard space, perhaps there is still somewhere you can tuck a few veggies.
Are there any planters in the courtyard of your apartment building, or bordering along sidewalks? Perhaps you can ask your building managers if it's possible to use parts of the planters for growing herbs and vegetables. It's worth a try!
You can discuss options with them: maybe you can grow perennial herbs such as oregano, sage, thyme, and rosemary. Or perhaps a variety of greens, which can look very nice in a bed with flowers.
Balcony gardens
If you're lucky enough to get a sizeable balcony with your apartment, you can do many things to take advantage of all the space. You can grow just about anything in containers – even trees! So take a look at your balcony space and plot out what you could fit into the space you have, and how you're going to plant it.
Pots are obviously your first consideration. They can be any shape or size, but square or rectangular ones take better advantage of small spaces. You may also need some way to raise the containers up so they're not shaded by the railings, unless you have glass railings.
Vertical growing is most useful in balcony situations. Peas, pole beans, cucumbers and indeterminate tomatoes can all be grown in pots on a balcony if they are given something to climb. Try chicken wire, bamboo, or twine hanging from the ceiling.
And don't forget to take advantage of the eaves. Hanging pots can be used to good advantage. You can plant them with small tomato varieties that can hang down, or, well…just about anything you want, really.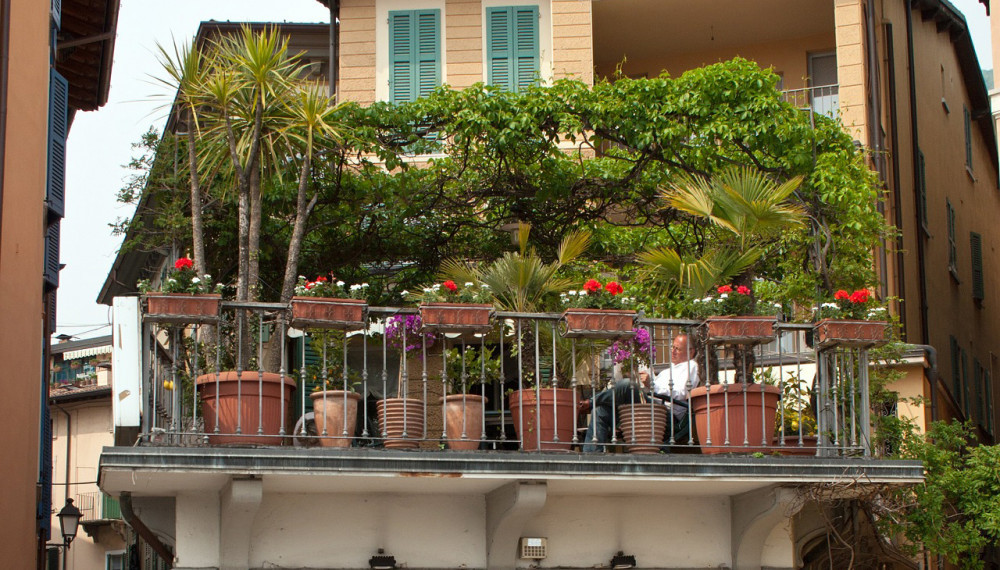 Elevated beds
Raised beds are great if you have the space. But if you're surrounded by concrete, elevated beds can be just as productive. Their smaller size makes them movable, so you can arrange them however you want.
Because they are waist height, they are great for people with mobility problems, or sore knees or backs. And, just like any container, you can grow just about anything in them. Tall things such as peas and pole beans will be trickier, so it's best to grow bush beans and short peas, unless you can erect tall trellises.
If you want to grow cucumbers, melons or squash, you can always trellis them downward, instead of upward. Use something like chicken wire, and drape the vines over it as they grow down.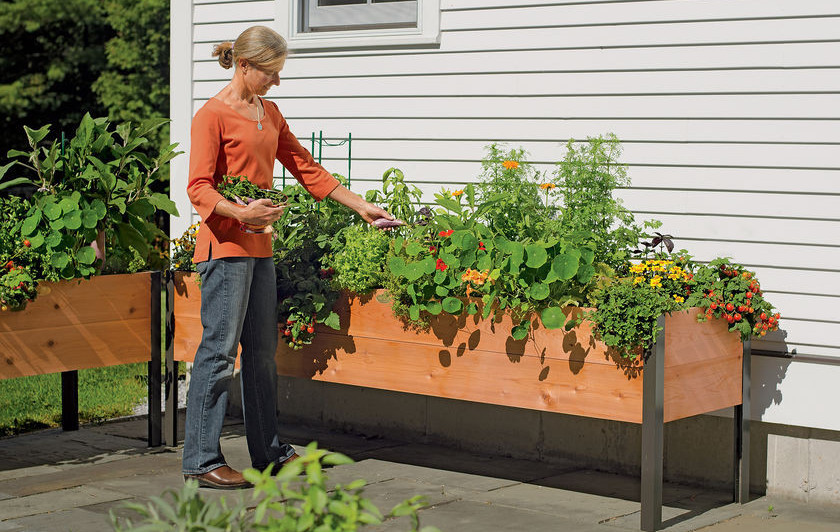 Final options
If you really truly have absolutely no place to grow any food outside, there is another option: you can grow inside. Now, most homes don't allow enough sunshine in to grow food to full size; but you can always use grow lights.
Contemporary grow lights take much less power to run than the old style; and you can set them up in many different configurations. You can even have them set up on shelves, with one light per shelf. You could grow quite a bit of food that way, without taking up too much space in the house.
You can either buy all the components and build your own indoor garden, or you can take it to the next level, and go really high-tech.
Gardening meets high-tech
If you are determined to grow food, and you have the funds, you can look into something like an AeroGarden. I haven't used one of these, but I've been looking into them, and they look very promising.
AeroGardens are countertop-sized hydroponic systems that enable anyone to easily grow herbs, salad greens, even small pepper and tomato plants and more, right in their own homes. Considering the high-tech world we live in, this shouldn't come as a surprise. And to be honest, I think they're pretty cool.
The pros of the AeroGarden, as I see it:
You can grow inside, any time of the year
They don't take up much space
There is no soil required
You can have fresh greens and herbs all winter long!
You could use it to start transplants
The cons of the AeroGarden are:
It has to be plugged in
You have to buy their seed-pod growing system to grow your own seeds
You have to buy their plant food
You may have to purchase distilled water, depending on your water source
The bigger ones aren't cheap
Personally, if I had nowhere to grow any food, I would try one of these little hydroponic units. They have a few different sizes, and I could set up more than one and have quite a little indoor garden happening. At the very least I would have my healthy greens to eat – all year round!
Yes, they can have a fairly high price tag – especially the larger ones – but it might just pay for itself in the long run; especially if you are a big eater of fresh veggies and herbs, and live where the winters are long.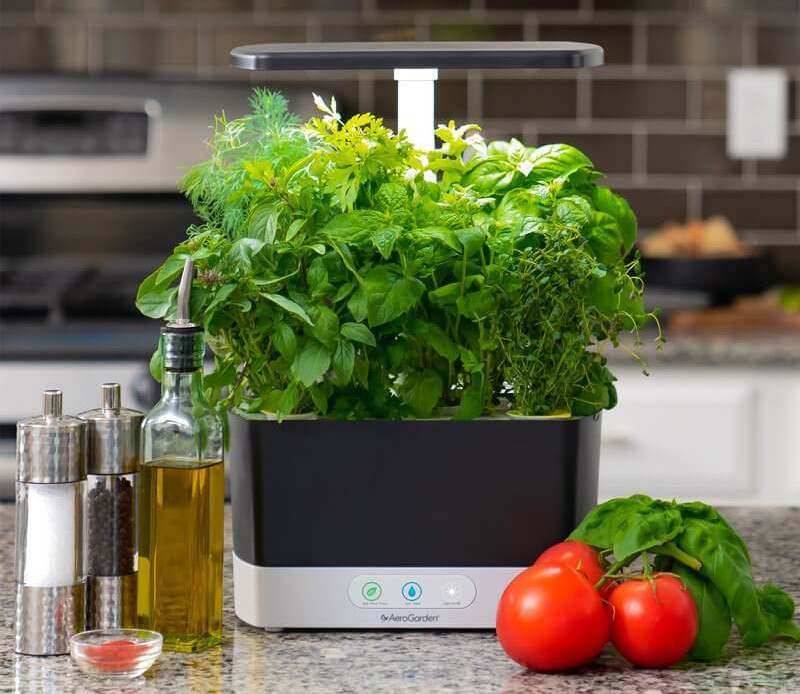 There is always room for a garden
Sometimes we have to give up the dream of a conventional garden, and use our imaginations to think of innovative ways to grow food. If you are living in a situation where you don't have a yard for creating a garden in, there are still a few options available to you.
Without a large yard, you can obviously only grow a small amount of food, so choose wisely. Grow nutrient dense vegetables that produce lots of food. Greens are a great one to grow because they can keep putting out leaves all season long; or they can be succession grown.
Vegetables like rapini (broccoli raab) keep putting out their healthy sprouts and leaves for a long time; and Swiss chard delivers big juicy leaves all season. So there are many options, and many healthy vegetables that can be grown in small spaces.
Just put your imagination to the task, and I'm sure you can come up with many more places to grow a little food.
~
I hope you got a little something out of this article on simple small garden design ideas. I believe that with some thought and knowledge, everyone can grow at least some of their food. And you'll get some practice for when you can have a bigger garden! : )
If you have any questions or comments, please feel free to drop me a line in the comments box below.
Health, Hope & Happiness
Tracy
This article may contain affiliate links. If you click on a link and make a purchase, I will receive a small commission, at no extra cost to you. See the full Affiliate Disclosure here.