Well, it's a damned crazy world out there.
On one hand, things haven't really changed all that much for me. I have been working from home as a freelance graphic designer for the last 10 years, so it's not great hardship for me to stay home. I actually prefer it.
On the other hand, I gotta say it's pretty eerie driving anywhere right now. We went into town the other evening, to do some ATM banking and fill up with gas, and we saw 3 cars, and only 2 people. One of the people was the gas station attendant, who was gloved and masked, and wiping the store down with bleach. Yeah, eerie.
But all in all, things have been pretty serene around here. The Sunshine Coast of British Columbia has a small population – just under 30,000 – so we don't have the troubles that a larger center might have.
We have been carrying on pretty much as usual at home. We've spent the last couple of weeks laying in firewood for next winter, and generally doing spring maintenance around the property. And of course, getting the garden planted.
We don't have to build a vegetable garden, because we built it last year. This year we topped all the beds off with a couple inches or more of homemade compost, and let the seeding begin!

A vegetable garden can take care of you
As far as I'm concerned, growing a vegetable garden is the smartest thing you can do right now. There are many benefits to growing a vegetable garden:
Eating truly fresh food
Keeping your body health
Saving money
Making fewer trips to town
Absorbing lots of vitamin D from the sun
Getting exercise
Having fun
Keeping your spirits up during a difficult time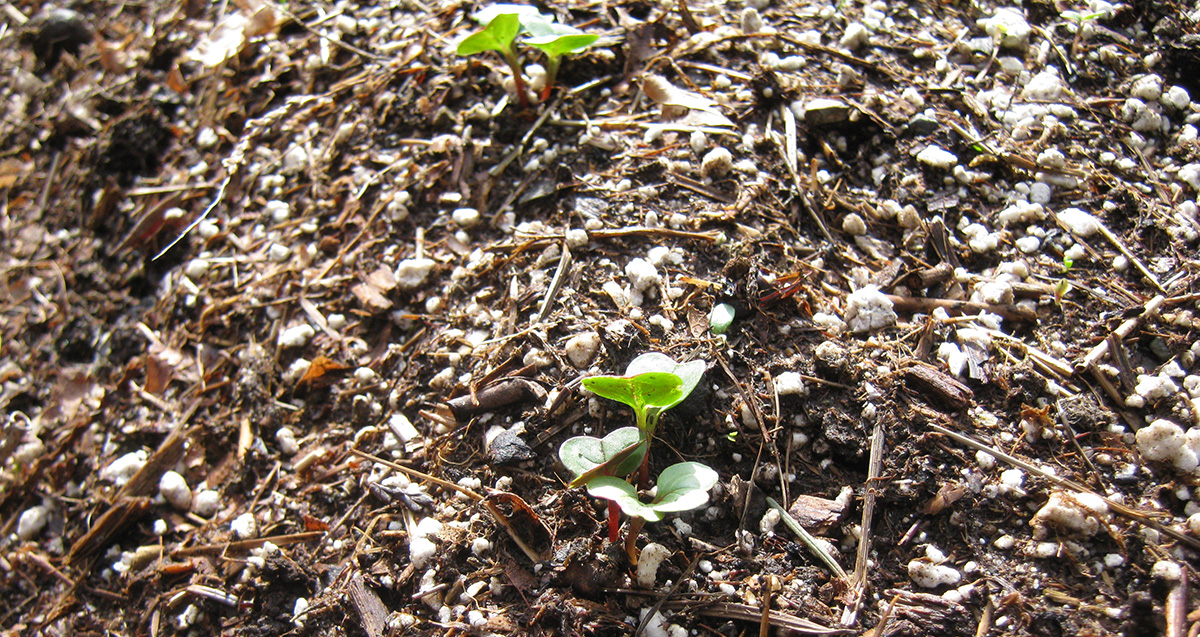 Taking control of your food system has never been more important. And when you learn how to grow truly healthy, beyond-organic food, you will also be taking control of your health. Many of our health problems stem from eating overly processed foods that wreak havoc on our intestinal flora. If we can get back to eating unpasteurized, unprocessed, homegrown food that hasn't been sprayed with toxins, we will begin to see its effects in our health.
When you grow a vegetable garden, aside from eating fresh, beyond-organic vegetables every day, you can turn those vegetables into an even healthier form of food: fermented vegetables. If you have done any research at all, you may have read that fermented veggies are among the healthiest things you can put into your body.
Do fermented vegetables boost the immune system?
Now, remember, I'm not a doctor or a scientist; so take what I say and do your own research. There are many studies online that show that gut health plays an extremely important role in maintaining overall health. Fermented vegetables are a big step toward getting your intestines populated with beneficial bacteria.
Immune system boosting is a big topic of conversation these days. People are trying anything and everything to keep healthy, in case they come into contact with COVID-19. Fermented vegetables are a big part of how we are keeping ourselves healthy.
I don't think you can do much better for yourself than taking care of your intestines. There is more and more research showing that probiotics are a big player in gut health, and gut health is a big player in our overall health and immunity.
I urge you to give fermented veggies a try. Not only are they super healthy for you, but they taste great! Sharp and tangy, and – if you put in hot peppers like I do – spicy too! I put them on just about everything I eat – I top off a plate of stir-fry with a couple of tablespoons (or five!), or add some to my bowl of soup or stew. I've even added them as a cool topping on my pizza, after I take it out of the oven.
You don't want to get fermented vegetables hot, as that will kill off the beneficial bacteria you are trying to introduce to your gut. Just add them to your meal after it is cooked and served. It will add a whole new layer of taste sensation. I love it.
So far I've only made mixed veggie ferments. But this summer I'm going to make fermented pickles with dill and garlic, fermented carrots with dill, fermented salsa, and fermented hot sauce with the cayenne peppers I'm growing. Muy caliente!
Another fantastic thing about fermented vegetables is that if you have a cold place to store them – a basement, garage, cold room, or root cellar – you don't need to use any power. What a great savings THAT would be. I love the image of cold room lined with shelves of fermented veggies to get me through the year. Yum.

The times they are a changin'
We have been lulled into a false sense of security, thinking the grocery stores will always be full of food; the gas stations will always have fuel; and the pharmacy will always have the pills to make us happy.
Yeah, no. We need to start taking control of our food systems, and our health. Someday the stores won't have everything we need. Oh, wait! That day has already come. There are so many empty shelves in the grocery store, making a shopping list is all but useless. You just to take what you can get these days.
This pandemic is just the tip of the iceberg. Imagine if something happened that really interrupted our food and fuel supply chain? Could you feed yourself? Can you preserve vegetables without a fridge or freezer? Can you cook your food without fossil fuels or electricity?
Now is the time to learn those skills. And to get yourself off to a running start, my advice is to build a vegetable garden. A big one. It's really not that hard. I've described a few different ways you can do this here, here and here. Have a read, and see if you're ready to take control of your food.
I hope this article gives you something to think about, and some inspiration to get going on building that garden. If you have any questions or experiences you'd like to share, I would love to hear them.
Health, Hope & Happiness
Tracy
This article may contain affiliate links. If you click on a link and make a purchase, I will receive a small commission, at no extra cost to you. See the full Affiliate Disclosure here.